Fri, 8th Dec 2023 09:16 (GMT +7)
Asia Architecture Design Awards 2023: Rising portfolios of Vietnamese architecture
Monday, 10/04/2023 | 07:43:18 [GMT +7]
A
A
Since its launch in December 2022, the Asia Architecture Design Awards (AADA) has received a lot of attention from architects, designers, as well as large and small organisations.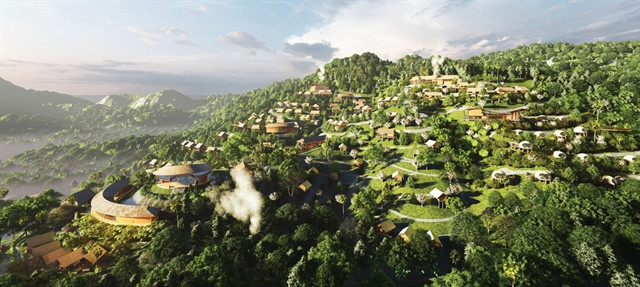 Projects from Việt Nam are among more than 325 that have registered for the Asia Architecture Design Awards (AADA) 2023.
Since its launch in December 2022, the Asia Architecture Design Awards (AADA) has received a lot of attention from architects, designers, as well as large and small organisations in the industry from countries across Asia with hundreds of projects and works submitted.
According to the organiser's preliminary statistics, there have been approximately 325 project portfolios registered to participate, with many standout designs from India, Thailand, Việt Nam, Malaysia, and the Philippines, all countries that are experiencing strong infrastructure and architectural development. Each country has its own unique cultural and architectural characteristics, creating diversity in the scope of the Asia Architecture Design Awards.
Dylan Yip, vice president of Global Business of the Asia Awards Organisation (AAO), said: "We are not surprised to receive AADA registration profiles from India, Thailand, or Việt Nam. Recently, these countries have developed rapidly in terms of infrastructure and have emerged with many iconic works.
"However, we are impressed by the relatively large number of registration profiles, demonstrating their interest in international awards as a way to seek professional recognition and promote their country's name to the world."
He said the most concentrated registrations are in the categories of Architectural Design, Resort Design, Hotel Design, and Commercial Interior Design.
In the Residential Architecture category, India holds the majority with many impressive works blending religious and modern technological elements. Thailand stands out in the Commercial Interior Design category with works such as museums, amusement parks, and automobile showrooms.
Meanwhile, Việt Nam has many architectural works such as resorts, hotels, and offices.
In addition, the AADA also noted a high number of registrations from Singapore for Best Landscape Architecture Design and Best Commercial Architecture Design. Many of these projects demonstrate Singapore's innovative thinking and advanced technology, contributing to improving the quality of life by optimising health, safety, convenience, and efficiency.
Tan Quee Peng, general director of RSP Vietnam, a professional consultant and jury member of the 2023 Asia Architecture Design Awards, said: "I am delighted that AADA has received great attention from emerging architectural markets in Asia, demonstrating this year's theme 'Impactful Asia'.
"AADA is a fair competition with transparent criteria and impartiality from reputable professionals in the region. I believe that AADA will contribute to honouring creativity, promoting progress, and bringing practical values to individuals, organisations, businesses in the architecture design industry and communities."
The Asia Architecture Design Awards opens for submissions until April 30, 2023, with 30 award categories across six disciplines: Architecture Design, Interior Design, Furniture Design, Architecture Design Firm, Interior Design Firm, and Firms in Furniture Manufacturing & Retailing.
Between April and June 2023, a distinguished panel of 20 experts specialising in real estate, architecture, and interior design, among other fields, will preside over the judging of the awards.
The most outstanding projects and businesses will be announced at the Winners' Night in July 2023 in Singapore.
Source: Vietnam News