Wed, 4th Oct 2023 13:06 (GMT +7)
ASEAN Para Games 12: Vietnamese swimmers bag 11 gold medals on June 7
Thursday, 08/06/2023 | 08:38:06 [GMT +7]
A
A
Vietnamese swimmers bagged 11 gold medals and set six records on June 7 – the fourth competition day at the 12th ASEAN Para Games, which is taking place in Cambodia.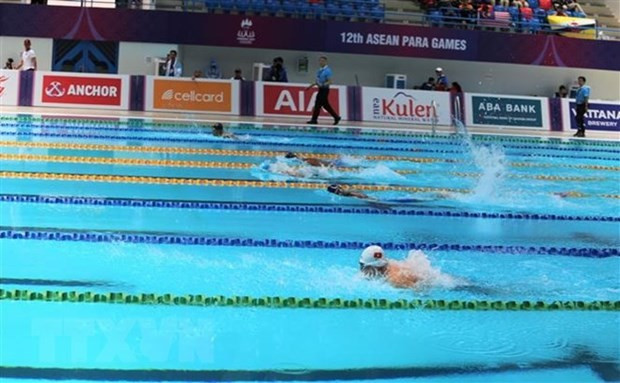 Swimmer Trinh Thi Bich Nhu brought home three golds in women's Butterfly S6, 100-metre breaststroke SB5, and 50-metre freestyle S6-SB5 events.
Nhu set two records at the two former events, clocking 41.50 seconds and 1 minute 51.77 seconds respectively.
Swimmer Vi Thi Hang also won her 4th gold medal at the Para Games 12 in the women's 50m freestyle S7 event after clocking 36.46 seconds while her Cambodian runner-up Changtha Thoeun finished at 51.71 seconds.
In the morning of June 7, Hang also won a gold medal in the 100m breaststroke SB6 with timing of 1 minute 51.41 seconds. She set two new records of the Games in these events.
On the men's 50m freestyle S6 event, Le Tien Dat won the gold medal when he finished first with 33.29 seconds. Earlier, on the morning, he set a record in the men's 100m breaststroke SB5 event with 1 minute 33.69 seconds, winning a gold medal.
Another swimmer, Pham Thanh Dat, broke a record when he competed the 50m butterfly S8-SB7 event with 30.25 seconds.
Other Vietnamese gold medalists are Nguyen Thi Sa Ri (women's 100-metre breaststroke SB4 event), Danh Hoa (men's 50m freestyle S4-SB3) and the men's team including Vo Thanh Tung, Danh Hoa, Do Thanh Hai and Le Tien Dat in mixed relay event.
Source: Nhan Dan