Thu, 5th Oct 2023 04:07 (GMT +7)
Welcome ceremony held for Singaporean PM Loong in Hà Nội
Monday, 28/08/2023 | 14:57:33 [GMT +7]
A
A
After the welcome ceremony, Vietnamese and Singaporean Prime Ministers held talks to discuss measures to bolster the bilateral relations.
Prime Minister Phạm Minh Chính hosted a welcome ceremony in Hà Nội on Monday morning for his Singaporean counterpart Lee Hsien Loong who is on an official visit to Việt Nam.
The two Prime Ministers then visited a photo exhibition featuring the land, people and relations of Viet Nam and Singapore, jointly organised by the Vietnam News Agency and the Việt Nam Government Office.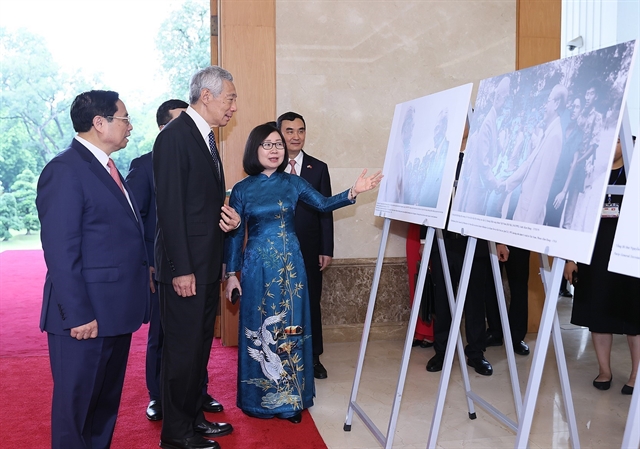 After that, they held talks to discuss measures to bolster bilateral relations and witnessed the signing ceremony of cooperation documents between the two countries.
Before the welcome ceremony, the Singaporean PM laid flower wreaths and paid tribute to President Hồ Chí Minh at his Mausoleum.
Earlier on Sunday evening, Singaporean Prime Minister Lee Hsien Loong tried Hà Nội's cuisine and took a stroll on the pedestrian streets around Hoàn Kiếm Lake at the heart of the capital city right upon his arrival.
In his stroll, the Singaporean leader visited and offered incense at Ngọc Sơn Temple national relic site - one of the famous destinations of Hà Nội.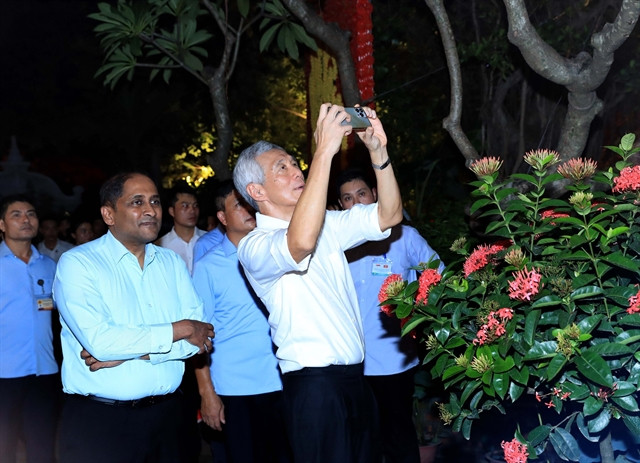 Upon his arrival, PM Lee posted a status on his personal Facebook page that "Xin chao from Hanoi! I am in Vietnam for an Official Visit at the invitation of PM Pham Minh Chinh".
"This year marks the 50th anniversary of diplomatic relations between our two countries, and the 10th anniversary of the Singapore-Vietnam Strategic Partnership. Beyond diplomatic relations, Singaporeans and Vietnamese also share many common interests, such as a love for good food," he shared.
This is Lee's fifth visit to Việt Nam in his position as the Prime Minister of Singapore, showing the closeness and cohesion between the two nations.
It is among a wide range of activities in celebration of the 50th anniversary of bilateral diplomatic ties and the 10th anniversary of the strategic partnership. On this occasion, PM Lee is expected to attend many important activities and events.
Source: Vietnam News