Fri, 8th Dec 2023 10:00 (GMT +7)
Vietnamese culture popularised in RoK's Gwangju city
Tuesday, 23/05/2023 | 15:39:35 [GMT +7]
A
A
The 2023 Vietnam Day was held in Gwangju city of the Republic of Korea (RoK) on May 21, aims to popularise the traditional and unique culture of Vietnam to international friends as well as to strengthen cultural exchange between the two countries.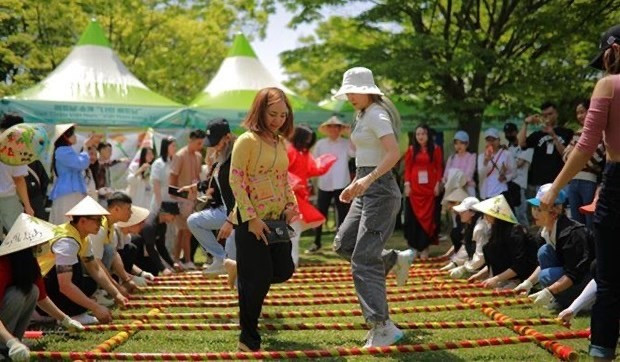 Nguyen Viet Phong, Chairman of the Vietnamese Association in the RoK's Gwangju-jeonnam region, said the event offers a good opportunity for the Vietnamese community to meet and enhance solidarity and mutual support.
Kang Gi-jung, Mayor of Gwangju city, expressed his hope that through the 2023 Vietnam Day, the people-to-people diplomacy and locality-to-locality exchange between the RoK and Vietnam will be further expanded.Yu Min-bong, General Secretary of the Governors Association of the Republic of Korea(GAROK), said this is an opportunity for Korean people to experience Vietnamese culture and access products of Vietnamese enterprises.
Addressing the event, Vietnamese Ambassador to the RoK Nguyen Vu Tung said he will continue to support Gwangju city administration, GAROK and the Vietnamese Association in Gwangju in carrying out meaningful activities, contributing to strengthening local collaboration and people-to-people exchanges between the two countries as well as assisting Nghe An province and Gwangju city in their future cooperation.Within the framework of the 2023 Vietnam Day, visitors were treated to traditional art performances, ao dai (traditional long dress) shows and special cuisine as well as took part in folk games of Vietnam.
Source: Nhan Dan