Thu, 5th Oct 2023 02:18 (GMT +7)
Trade surplus reaches 12.25 billion USD in H1
Friday, 30/06/2023 | 09:22:20 [GMT +7]
A
A
Vietnam recorded a trade surplus of about 12.25 billion USD in the first half of this year, according to data released by the General Statistics Office of Vietnam (GSO) on June 29.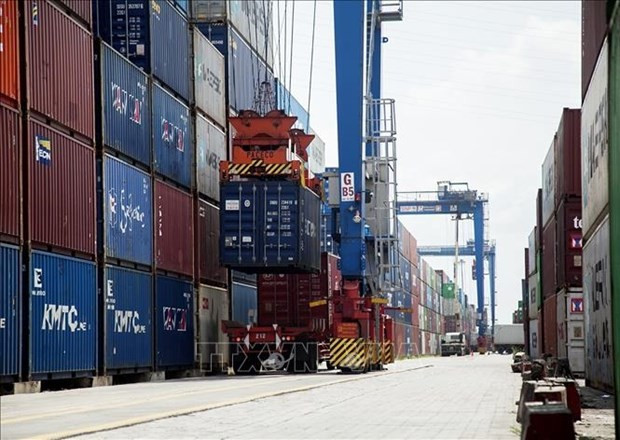 In the period, the total import-export turnover of goods hit 316.65 billion USD, an annual decrease of 15.2%. Specifically, exports and imports fell by 12.1% and 18.2%, respectively.
The six-month export value stood at some 164.45 billion USD, of which 43.41 billion USD came from the domestic economic sector, accounting for 26.4% of the total foreign trade. The foreign-invested sector accounted for 73.6% with 121.04 billion USD.
There were 27 commodity items whose shipments overseas brought home over 1 billion USD and five earned over 10 billion USD each. Processing and manufacturing products contribute the lion's share of the total export turnover, at 144.82 billion USD or 88.1%.
The US was the largest export market of Vietnam spending approximately 44.2 billion USD on Vietnamese goods, while China was the largest import market, selling 50.1 billion USD worth of commodities to Vietnam.
In June alone, the import-export value was estimated at 56.01 billion USD, an increase of 3.6% month-on-month and a reduction of 14.1% year-on-year.
The GSO said the improved export figure for June indicates that trade promotion measures have yielded certain effectiveness.
In the coming time, in a bid to further enhance the efficiency of import and export activities, the Ministry of Industry and Trade has identified several tasks, which include intensifying trade promotion programmes that target new and potential markets such as India, Africa, the Middle East, Latin America, Eastern Europe, and those less affected by inflation and posting promising growth like ASEAN.
Source: Nhan Dan