Sun, 28th May 2023 14:46 (GMT +7)
Swedish artist makes music with inspiration from Vietnamese epic
Thursday, 18/08/2022 | 15:48:11 [GMT +7]
A
A
The classic Vietnamese epic Lục Vân Tiên, which may be read in a variety of languages and dialects throughout the world, has been given new life by Tamela Hedstrom, a Swedish artist.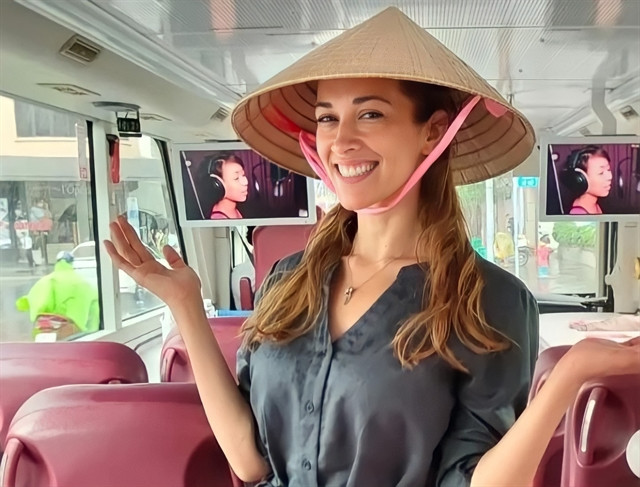 Swedish singer-songwriter Tamela Hedstrom said she was surprised when director Lê Quý Dương told her he wanted to collaborate with her on a song inspired by the classic epic Lục Vân Tiên.
But she immediately agreed because she appreciated the director's talent and enthusiasm for art.
"Dương told me about the famous poet Nguyễn Đình Chiểu and his work Lục Vân Tiên, and we discussed the idea of staging an artistic programme in Chiểu's honour." she said.
Their friendship began at the Fujairah International Art Festival in the United Arab Emirates.
The singer, 39, said she has always connected with Dương's artistic passion despite their geographical distance.
"He is a creative adventurer and I admire his passion for what he does. A hard-working man, I would say."
Tamela expressed her initial impression of Lục Vân Tiên as a "beautiful and enthralling" tale that advises everyone to overcome adversity.
She said: "I had dreams about it. I tried to imagine how Vân Tiên and Nguyệt Nga must have been feeling at the time. It was difficult, but the story motivated me to compose music."
The Swedish artist stated that she began reading Lục Vân Tiên in English and took note of all the wonderful features and messages that were included inside.
"A visual of the characters and other details popped into my head while I was reading. From there, the tunes just kept coming to me," she recalled.
The female musician was then inspired to write a ballad after reading the famous Vietnamese epic and putting the fascinating details she gained into her lyrics.
She said: "This humanity story still has a place in Vietnamese literature after hundreds of years. Lục Vân Tiên is a piece that I feel everyone in the world can appreciate if given the chance."
Tamela's hard work paid off in July when she performed her song at the 200th birthday celebration of the renowned Nguyễn Đình Chiểu in Mekong Delta province of Bến Tre to an audience of thousands.
The 39-year-old singer told Việt Nam News that the kind reaction she received from the Vietnamese audience really touched her heart.
"I love the beautiful energy of the Vietnamese. Such kindness, elegance, and joy for life! Such an inspiration! It really warmed my soul and heart."
She also revealed that she is working on a book on her experiences as a female musician and presenting the song Lục Vân Tiên to a wider audience in the near future.
"This project excites me greatly. The book is about an injury I had many years ago and how it feels to be a woman in the music industry." VNS
Lục Vân Tiên is a work of Nôm poetry written by Nguyễn Đình Chiểu and first published by Trương Vĩnh Ký in 1889. It was written in the early 1850s of the 19th century.This is one of the most renowned Vietnamese masterpieces. In 1899, Abel des Michels translated the work into French as 'Luc Van Tien fairy tale - Histoire de Luc Van Tien'.The work of Lục Vân Tiên is about morals, the essence of humanity.
Source: Vietnam News