Fri, 8th Dec 2023 08:49 (GMT +7)
Practical policies needed to ensure social welfare for workers: NA deputies
Friday, 02/06/2023 | 08:59:23 [GMT +7]
A
A
On average, 19,200 businesses are out of the market each month. Approximately 149,000 people also lost their job in Q1-2023, a year-on-year increase of 39,000 people.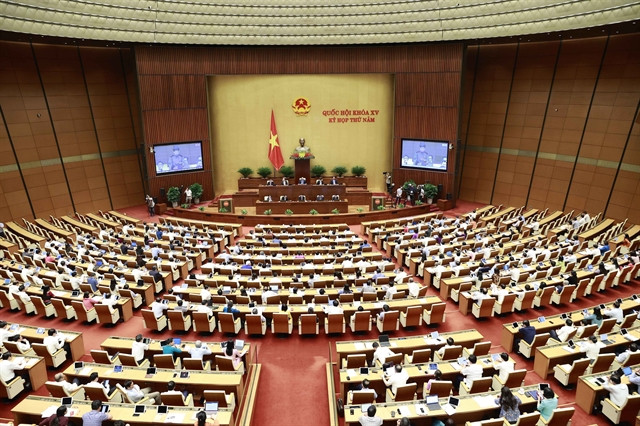 National Assembly (NA) deputies are calling for practical policies to ensure social welfare for workers whose lives are affected as their employers are facing difficulties.
Tuyên Quang Province's NA Deputy Ma Thị Thúy said that the number of enterprises going out of business has increased by 25.1 per cent compared to the previous year, equivalent to 77,000 companies.
On average, 19,200 businesses leave the market each month. Approximately 149,000 people also lost their job in the first quarter of 2023, a year-on-year increase of 39,000 people.
Slow disbursement of public investment, dwindling consumption and decreased number of orders are some of the reasons for this situation, she said.
Thúy added: "The hardship businesses face also gravely affect workers' life, hinting at difficulties in social welfare and safety."
She also agrees with the Government's decision not to adjust the growth target of 6.5 per cent in 2023, while maintaining macro-economic stability and controlling inflation.
Thúy believed that the fastest and most effective solutions are fiscal tools to provide direct support for businesses.
The NA and Government also need to be more determined in resolving bottlenecks related to policies and guidelines, she added.
Trần Thị Vân, an NA deputy from Bắc Ninh Province, gave high regard to the VAT reduction of 2 per cent for enterprises and the social housing support packages for workers.
However, she noted that the disbursement of this assistance remains very slow.
The support packages should be streamlined for implementation and extended to 2025, so that the Government's goal of building one million social houses will be met.
Citing that job loss can be considered the biggest threat to the livelihoods of workers and their dependents, Hải Dương Province's NA deputy Đinh Thị Ngọc Dung said that it is crucial to have practical policies in place now to ensure social welfare.
In addition to promptly perfecting the legal framework, policymakers need to put workers at the core and their well-being should be considered a quality criteria of policies in implementation.
She added that the Government should also look into developing a reserve fund with a long-term vision to support laid-off workers, which is also expected to reduce the burden on traditional social welfare funds.
Life insurance
NA deputies on Wednesday also discussed life insurance after multiple customer complaints were published in the news recently.
Nguyễn Thị Thủy, an NA deputy from Bắc Kạn Province, said that multiple news articles have pointed out the risks and misleading clauses in the insurance contracts.
She added that while life insurance is a helpful product that provides assistance during hardship, buyers will loss their future investment and protection if they do not receive proper consultancy.
According to the Insurance Association of Vietnam, one of the problems that arose in 2022 is the deliberate spreading of false information on insurance.
Thủy added that only around 11 per cent of the Vietnamese population participates in life insurance, while this figure is 38 per cent in the Philippines, 50 per cent in Malaysia and 90 per cent in the US.
Life insurance requires transparency from both participating parties to result in benefits, Thủy said.
She recommended that the Ministry of Finance conduct a comprehensive inspection of life insurance, especially the model that is linked to different forms of investment.
The Ministry of Public Security should also verify whether there are signs of fraud in the sector.
Insurance companies must also review their entire process, from contract designing, consultation, contract signing and resolving customer complaints, she added.
Source: Vietnam News