Tue, 6th Jun 2023 06:33 (GMT +7)
PM underlines importance of nurturing agriculture start-ups
Friday, 19/08/2022 | 09:10:30 [GMT +7]
A
A
To achieve success, start-ups in the agriculture sector require training to improve capacity, a good environment for growth and the provision of capital and legal support.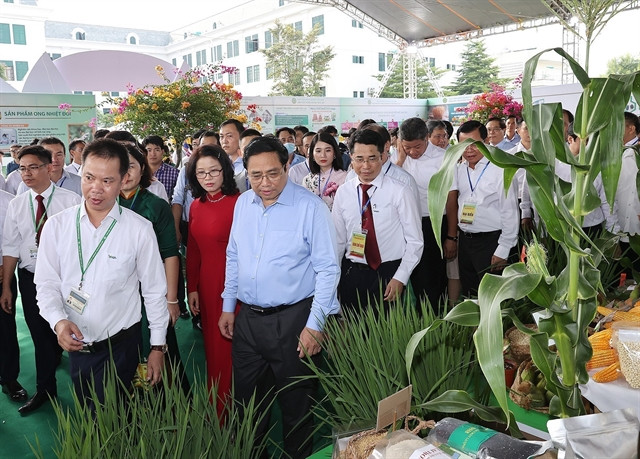 The Prime Minister made the statement while attending a programme on start-ups and innovation and a job fair held at the Vietnam National University of Agriculture in Hà Nội on Wednesday.
The PM stressed that the Party, Government and State pay great attention to the start-up ecosystem and innovation. In 2017, the Prime Minister approved a master plan to support students' start-ups until 2025.
In 2021, Việt Nam ranked 44 out of 132 countries and economies in terms of global innovation. More than 1,000 organisations are capable of supporting start-ups and 100 per cent of training establishments have plans to support students in forming start-ups.
PM Chính said start-ups in agriculture are considered a breakthrough in agricultural development and building new-style rural areas.
Implementing the Government's plan on supporting students' start-ups until 2025, the Vietnam National University of Agriculture has organised an annual competition on agricultural start-ups and innovation since 2014, which has drawn the participation of more than 2,500 projects from hundreds of universities, colleges, high schools and localities.
Agricultural development is one of the important tasks in the socio-economic development strategy of the country. Amid the COVID-19 pandemic, the agriculture sector has demonstrated its role as the backbone of the country's economy and food security. Việt Nam has become one of the leading exporters of agro-forestry-fishery products in the world with a value of more than US$48 billion in 2021.
The Party and State have also paid great attention to developing high-quality human resources for agriculture. Through this event, PM Chính called on the Vietnam National University of Agriculture, universities and research establishments to provide training in line with the market demand and continue to improve training and scientific research quality to meet increasing requirements from students and businesses amid international integration.
Training and scientific research must follow real demand, urging them to change training methods, taking learners as the centre of the training process and linking training with reality, as well as promote start-ups and innovation among students, the PM said.
The Government leader asked for the innovation ecosystem to be further developed, focusing on promoting the start-up spirit among students.
PM Chính instructed businesses to closely coordinate and support tertiary education, actively participating in the training process from forecasting labour demand, building the structure of training programmes, assessing training quality, supporting scientific research and creating an environment for students to improve their professional skills.
At the meeting, the PM and participants visited booths showcasing scientific and technological models and products in the field of agriculture.
Later the same day, PM Chính held a working session with experts and scientists from the Vietnam National University of Agriculture.
Source: Vietnam News