Fri, 8th Dec 2023 10:46 (GMT +7)
How to prepare Mekong Delta-style crispy banh xeo
Thursday, 16/11/2023 | 15:41:09 [GMT +7]
A
A
Banh xeo pancakes feature a thin, crispy crust and a flavorful filling of shrimp, fatty pork, and fresh bean sprouts, all with hints of coconut milk and scallions.
This recipe serves about 5 to 6 people, takes approximately 55 minutes to prepare, and provides around 2,500 calories in total.
Ingredients:
a. For the pancake batter
- 250 grams of Vietnamese pancake flour mix
- 50 grams of crispy fried flour mix
- 1 teaspoon of turmeric powder
- 1 chicken egg
- 1 can of beer or carbonated mineral water (500 ml)
- 100 ml of coconut milk
- 1/2 teaspoon of salt
b. For the pancake filling
- 200 grams of shrimp
- 200 grams of pork belly
- 200 grams of bean sprouts
- 1 onion
c. For the pickles
- 1/2 white radish
- 1/2 carrot
d. Spices: Fish sauce, salt, sugar, stock powder, pepper, lime, garlic, chili
e. Vegetables: mustard greens, lettuce, coriander, basil, scallions, chives
f. Cooking oil or lard
Instructions
1. Preparation
a. Mixing the pancake batter
- For a crispy texture, pay attention to the flour mix: use 250 g pancake flour and 50 g crispy fried flour, along with 100 ml coconut milk and filtered water, totaling 600 - 650 ml of liquid.
- This amount of batter is suitable for 4 - 5 servings; adjust the quantities if making a larger batch.
- In a large bowl, combine pancake flour, crispy fried flour, turmeric powder, eggs, coconut milk, carbonated water, 1/2 teaspoon of salt, and chopped scallions or chives.
- Stir to dissolve, then let the batter rest for around 30 minutes to ensure a crispy texture when fried.
b. Preparing the filling
- Select fresh pork belly that has a balance of lean and fat, and is light pink in color. You can opt for lean shoulder meat as a substitute. Wash the meat and cut into thin pieces.
- Marinate the meat with half a teaspoon of fish sauce, salt, stock power, and pepper.
- Select small shrimp, cut off the head, and wash. If using large shrimp, peel them.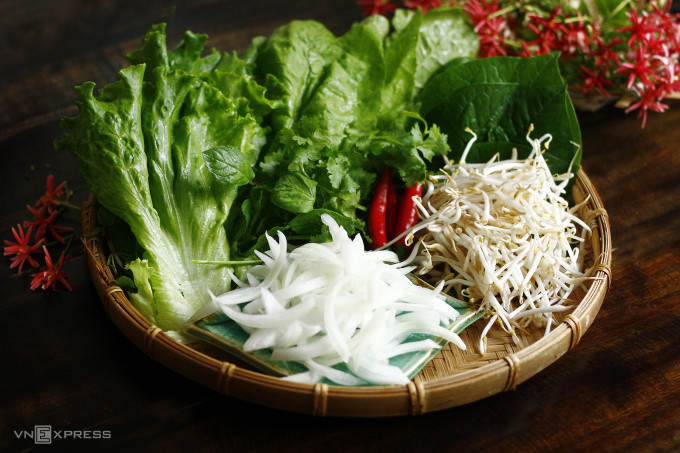 - Peel and slice the onion. Rinse bean sprouts thoroughly. Wash and drain fresh vegetables like mustard greens, lettuce, coriander, and basil.
2. Cooking process
a. Stir-frying the filling and assembling the pancakes
- Stir-fry the meat, then add the shrimp and cook until they turn red. Season to taste, and set the filling aside.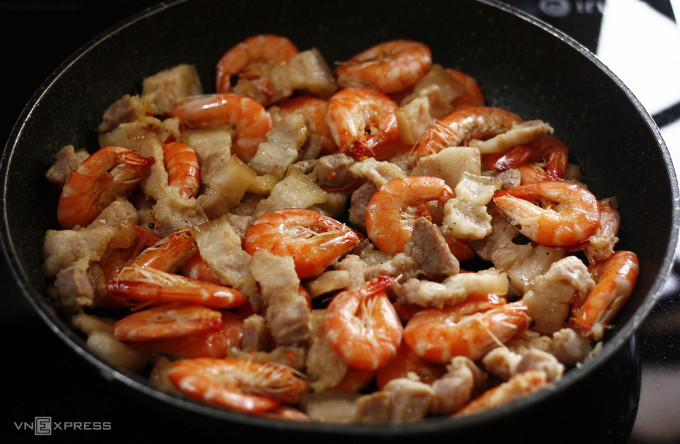 - Put a pan initially on high heat, brush a thin layer of oil or use a piece of lard to create a non-stick surface. Reduce the heat to medium, ladle the batter into the pan, tilt it evenly to form a round pancake.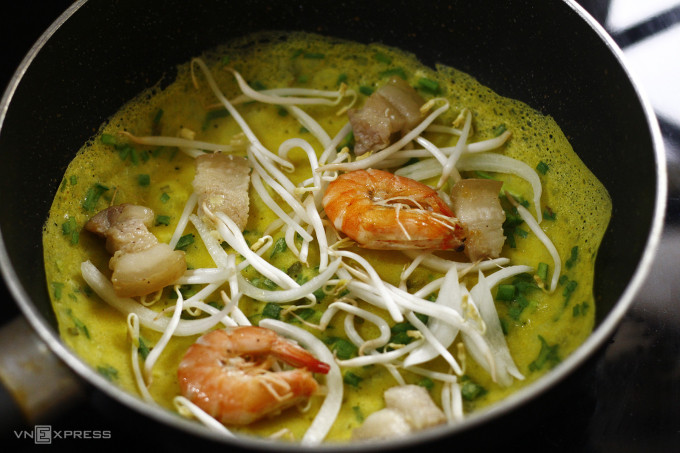 - Add the meat, shrimp, some bean sprouts, and onions, cover and let the filling cook for about 1 - 1.5 minutes.
- Open the lid, wait for the edges of the pancake to curl and lightly crisp, apply a little more oil, then gently fold it in half to create a semi-circle shape, pressing down to enhance crispness.
- Flip it and fry the other side until crispy. Place the banh xeo in a clean plate. Repeat until all the batter is used.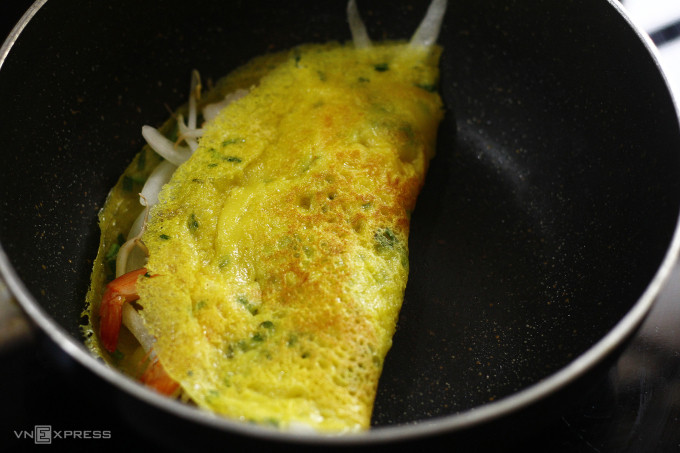 b. Dipping sauce and pickles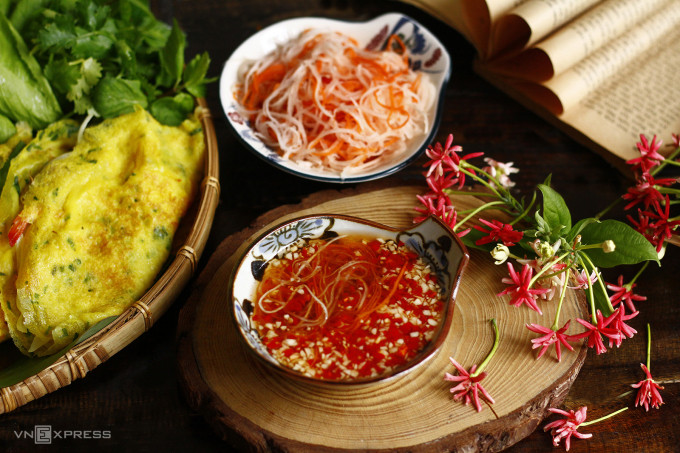 - To make the dipping sauce, use fish sauce, sugar, lime juice, and filtered water in a 1:1:1:5 ratio. Some regions use fresh coconut water instead of filtered water.
- Stir until the sugar completely dissolves, then add garlic and chili for a blend of sweet, sour, spicy, and salty flavors, with hints of garlic and chili.
- For the pickles, grate or slice white radish and carrots, and marinate them with a pinch of salt, sugar, and vinegar for 15 minutes to absorb the flavors.
3. Presentation
- Arrange the pancakes on a tray alongside raw vegetables, herbs, pickles, and sweet and sour fish sauce. Banh xeo is best enjoyed hot. Pick up a piece of banh xeo, wrap it in rice paper, dip it in sweet and sour fish sauce, and savor the combination.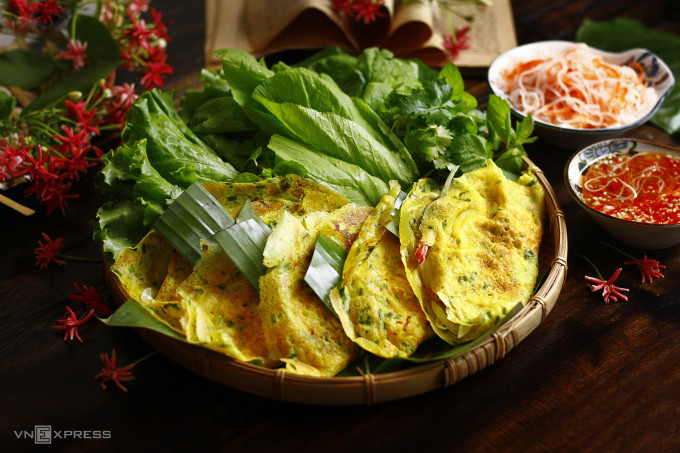 Finished products:
- The pancakes feature thin, crispy, golden crust.
- The inside is filled with the sweetness of shrimp, fatty pork, crunchy bean sprouts, and subtle notes of coconut milk and green onions.
NOTE
- Mekong Delta-style pancakes are known for their large size, thin, crispy edges, and thicker center, often made in a deep pan. In the central region, pancakes are thicker and cooked in a smaller pan with a flat base.
- The filling for banh xeo is flexible and can vary based on preference. The most popular choices include shrimp and meat, but there are also options like seafood, eggs, mixed meats, chicken, minced duck meat, or stir-fried mussels with jicama.
- To ensure a crispy pancake, the batter should not be too thick. Adding beer or carbonated water is the secret to achieving the desired texture.
- Traditionally, the fried pancakes are lined with fresh banana leaves, imparting a unique rustic fragrance.
- Banh xeo is typically served with a variety of vegetables and herbs, including seasonal options like ambarella leaves, young mango leaves, cat loi (crepe-ginger) leaves, and betel leaves.
Source: VnExpress