Fri, 22nd Sep 2023 09:15 (GMT +7)
British newspaper hails Vietnam's education system
Monday, 03/07/2023 | 08:43:46 [GMT +7]
A
A
Vietnam understands the value of education and manages its teachers well, British weekly newspaper The Economist wrote in a recent article.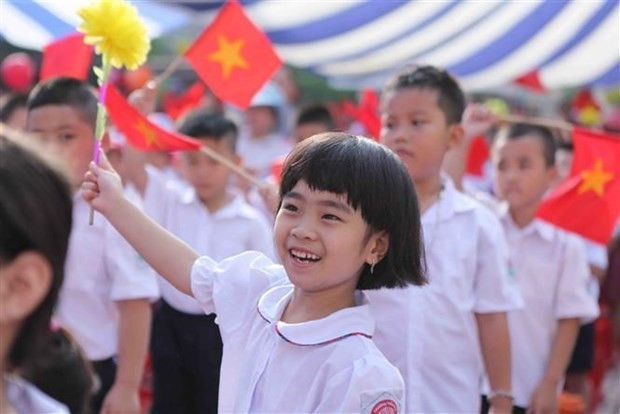 The article noted that Vietnamese children go through one of the best schooling systems in the world, a status reflected in outstanding performances in international assessments of reading, maths and science.
It cited the latest data from the World Bank which shows that, on aggregate learning scores, Vietnamese students outperform not only their counterparts in Malaysia and Thailand but also those in the UK and Canada, countries more than six times richer. Even in Vietnam itself, student scores do not exhibit the scale of inequality so common elsewhere between the genders and different regions.
The author assessed that the distinctive secret of Vietnam's stellar performance lies in the classroom: its children learn more at school, especially in the early years.
The article cited a 2020 study by Abhijeet Singh of the Stockholm School of Economics, which gauged the greater productivity of Vietnam's schools by examining data from identical tests taken by students in Ethiopia, India, Peru and Vietnam. Accordingly, between the ages of five and eight Vietnamese children race ahead. One more year of education in Vietnam increases the probability that a child can solve a simple multiplication problem by 21 percentage points; in India the uplift is six points.
Vietnamese schools, unlike those in other poor countries, have improved over time, said the paper. The biggest reason is the calibre of local teachers, it noted, adding that they are not necessarily better qualified but simply more effective at teaching.
"Vietnam's teachers do their job well because they are well-managed. They receive frequent training and are given the freedom to make classes more engaging. To tackle regional inequality, those posted to remote areas are paid more. Most important, teacher assessment is based on the performance of their students."
In addition, it wrote that provinces are required to spend 20% of their budgets on education, which has helped regional equity. That the Communist Party of Vietnam pays such close and relentless attention also ensures that policies are adjusted to update curriculums and teaching standards.
"All this has reaped rich rewards. As schools have improved, so has Vietnam's economy," concluded the article.
Source: Nhan Dan