Wed, 4th Oct 2023 13:35 (GMT +7)
Bangladeshi photographer wins honor for Hanoi incense village photo
Thursday, 01/06/2023 | 09:15:32 [GMT +7]
A
A
A photograph that captures the image of women drying incense sticks in Hanoi's Quang Phu Cau Village has won the Gold Award in the Travel category at the 2023 Color Photography Contest.
Taken by Bangladeshi Azim Khan Ronnie, the photo shows two women wearing conical hats surrounded by thousands of incense sticks in Quang Phu Cau, 35 km south of downtown Hanoi.
"Incense plays an important role in the spiritual lives of Vietnamese people," he said, noting that the pink sticks are usually used in worship activities.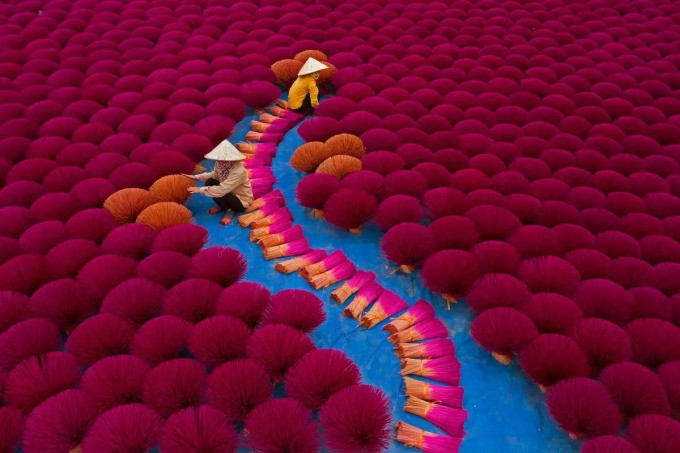 Quang Phu Cau has over 300 households engaged in the trade passed down through generations. In the run up to the Lunar New Year holiday, the village is at its busiest as nearly the entire population lights incense at home and pagodas.
Village products are consumed not only in Vietnam but also in India, China, Malaysia, and other countries. On average, Quang Phu Cau uses around 200 tons of materials to produce 50 tons of incense a month.
This year's contest attracted thousands of photographers from nearly 70 countries to compete in different categories such as travel, abstract, aerial, architecture, life and fashion, with winners selected by an esteemed panel of judges from major publications and museums.
The overall winner was Belgian photojournalist Alain Schroeder for his photo showing two people resting and checking each other's eyes after training in Kushti, a traditional form of Indian wrestling.
Launched by new photo contest platformreFocus Awards, the contest aims to honor color photography.
Source: VnExpress